Angelfish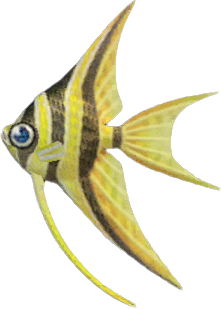 The angelfish is truly a beautiful creature. Just look at the elegance of those fins! Despite the name, however, these lovelies are known to be rather aggressive. They've no qualms about relentlessly pursuing fish much smaller than themselves! Why, they even attack their own kin! It seems no fish is safe around these "angelic" bullies. It makes one wonder who comes up with these names. Appearances— and names— can be deceiving.
Shopping information for Angelfish
Orderable from Catalog: No
Sell Price:
3,000
Bells
Drop-Off Box Sell Price:
2,400
Bells
Do you have this item?
Make Sell Offer
Join the Club, Become a Member
Becoming a Member will always be 100% free and you instantly unlock:
Your own Profile Page
Trading Post, List Trades and Offers on Items and Villagers
Furniture, Item, & Clothing Sets / Series, Themes, and Styles
Creating and adding Items & Villagers to your own Shareable Lists
Many new features coming soon!
Sign In