Barred Knifejaw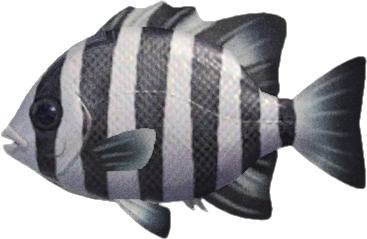 Wonderful! I would love nothing more! The barred knifejaw, also called the striped beakfish, is a lovely fish with a distinctive striped pattern. It is reportedly also a very curious fish in that it has been known to approach swimmers to "greet" them. They also tend to be good at avoiding fishing hooks, so well done on outwitting this one!
Details about Barred Knifejaw
Shopping information for Barred Knifejaw
Orderable from Catalog: No
Sell Price:
5,000
Bells
Drop-Off Box Sell Price:
4,000
Bells
Do you have this item?
Make Sell Offer
How to find Barred Knifejaw
Where / How: Sea

Join the Club, Become a Member
Becoming a Member will always be 100% free and you instantly unlock:
Your own Profile Page
Trading Post, List Trades and Offers on Items and Villagers
Furniture, Item, & Clothing Sets / Series, Themes, and Styles
Creating and adding Items & Villagers to your own Shareable Lists
Many new features coming soon!
Sign In