Dab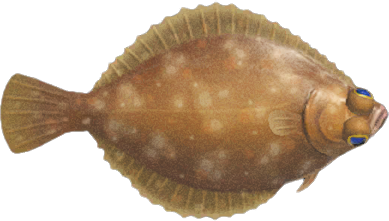 The dab is a flatfish that bears some resemblance to the olive flounder, though their mouths are different. Personally, I am morbidly fascinated by each fish's eye placement. The dab's eyes are both on its right side, while the olive flounder's are on the left. These fish spend lots of time lying on their sides in the sand, so the odd eye placement makes some sense... But its-how can I put this? Creepy? Viscerally disturbing? Profoundly upsetting to fans of symmetry?
Shopping information for Dab
Orderable from Catalog: No
Sell Price:
300
Bells
Drop-Off Box Sell Price:
240
Bells
Do you have this item?
Make Sell Offer
Join the Club, Become a Member
Becoming a Member will always be 100% free and you instantly unlock:
Your own Profile Page
Trading Post, List Trades and Offers on Items and Villagers
Furniture, Item, & Clothing Sets / Series, Themes, and Styles
Creating and adding Items & Villagers to your own Shareable Lists
Many new features coming soon!
Sign In