Atlas Moth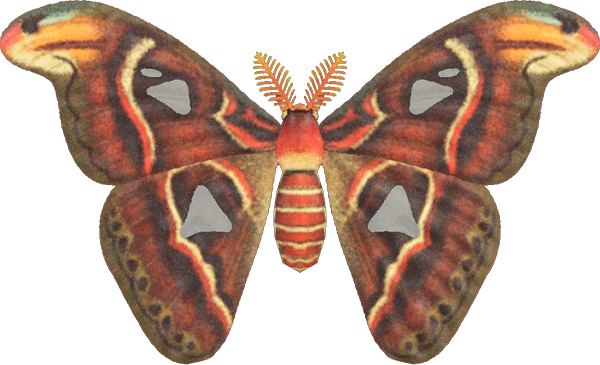 The Atlas moth is a monstrous thing! Not only is it one of the largest moths in the world... The tips of its wings look rather like the heads of venomous snakes! Despite its largeness and loathsome looks, the adult Atlas moth lives only for a few days. It emerges from its cocoon without a mouth, you see...and so cannot eat. I feel for the poor thing...but it is still foul!
Shopping information for Atlas Moth
Orderable from Catalog: No
Sell Price:
3,000
Bells
Drop-Off Box Sell Price:
2,400
Bells
Do you have this item?
Make Sell Offer
Where / How: On trees (any kind)
Weather: Any weather

Join the Club, Become a Member
Becoming a Member will always be 100% free and you instantly unlock:
Your own Profile Page
Trading Post, List Trades and Offers on Items and Villagers
Furniture, Item, & Clothing Sets / Series, Themes, and Styles
Creating and adding Items & Villagers to your own Shareable Lists
Many new features coming soon!
Sign In