Bell Cricket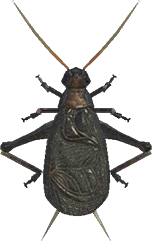 The call of the bell cricket heralds the arrival of autumn. And I concede it is a rather pleasant sound. What I do NOT find pleasant is the way these things rub their strange wings together to make their song! Ick and blech! And to make matters worse, bell crickets have been known to shed two of their four wings! And they simply leave these wings where they fall, as if it were litter! I simply cannot abide such odious behavior.
Details about Bell Cricket
Shopping information for Bell Cricket
Orderable from Catalog: No
Sell Price:
430
Bells
Drop-Off Box Sell Price:
344
Bells
Do you have this item?
Make Sell Offer
Where / How: On the ground
Weather: Any except rain

Join the Club, Become a Member
Becoming a Member will always be 100% free and you instantly unlock:
Your own Profile Page
Trading Post, List Trades and Offers on Items and Villagers
Furniture, Item, & Clothing Sets / Series, Themes, and Styles
Creating and adding Items & Villagers to your own Shareable Lists
Many new features coming soon!
Sign In