Evening Cicada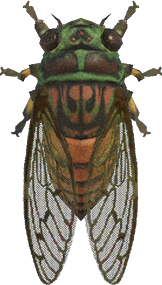 The evening cicada certainly knows how to ruin a quiet moment. As the sun sets, it strikes up a sad song so sonorous, one can't hear one's own thoughts! I'd feel sorry for its melancholy moods if it weren't so very vocal about how it feels. Ugh, please pipe down...
Details about Evening Cicada
Shopping information for Evening Cicada
Orderable from Catalog: No
Sell Price:
550
Bells
Drop-Off Box Sell Price:
440
Bells
Do you have this item?
Make Sell Offer
How to find Evening Cicada
Where / How: On hardwood/cedar trees
Weather: Any weather

Join the Club, Become a Member
Becoming a Member will always be 100% free and you instantly unlock:
Your own Profile Page
Trading Post, List Trades and Offers on Items and Villagers
Furniture, Item, & Clothing Sets / Series, Themes, and Styles
Creating and adding Items & Villagers to your own Shareable Lists
Many new features coming soon!
Sign In