Abalone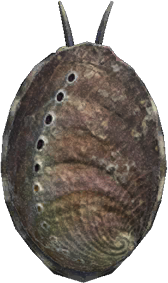 My feathers, but the abalone is a most deceptive sea snail, wot wot! After seeing its dull brown shell from the outside, one would think it quite plain.But take a gander inside, and you'll see that the abalone's home is a shimmering beauty to behold! The inner layer of the shell is made of "nacre," or "mother-of-pearl," and, hoo, what a dazzling iridescent hue! Let this be a lesson! You mustn't judge a sea snail by the outside of its shell. Judge it by the inside of its shell instead.
Total Catches To Unlock:
20
Shadow Size: Medium
Item Size: 1x1
Movement Speed: Medium
Version Added:
1.3.0
Shopping information for Abalone
Orderable from Catalog: No
Sell Price:
2,000
Bells
Drop-Off Box Sell Price:
1,600
Bells
Do you have this item?
Make Sell Offer
Join the Club, Become a Member
Becoming a Member will always be 100% free and you instantly unlock:
Your own Profile Page
Trading Post, List Trades and Offers on Items and Villagers
Furniture, Item, & Clothing Sets / Series, Themes, and Styles
Creating and adding Items & Villagers to your own Shareable Lists
Many new features coming soon!
Sign In