Mussel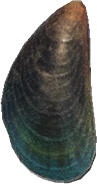 Did you know the mussel has a beard?! Hoo! It's true! Well, partially true, anyway. Mussels have a special gland that secretes a thing called "bysuss" or "byssal thread." They use these tough beard-like fibers to anchor themselves to rocks and keep themselves in place. So, you see, the mussel's beard is functional rather than merely stylish. Then again, perhaps all beards should be this way.
Shadow Size: Small
Item Size: 1x1
Movement Speed: Slow
Version Added:
1.3.0
Shopping information for Mussel
Orderable from Catalog: No
Sell Price:
1,500
Bells
Drop-Off Box Sell Price:
1,200
Bells
Do you have this item?
Make Sell Offer
Join the Club, Become a Member
Becoming a Member will always be 100% free and you instantly unlock:
Your own Profile Page
Trading Post, List Trades and Offers on Items and Villagers
Furniture, Item, & Clothing Sets / Series, Themes, and Styles
Creating and adding Items & Villagers to your own Shareable Lists
Many new features coming soon!
Sign In