Sea Pig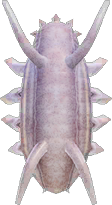 Never have I seen a creature that walks the line between creepy and cute quite like the sea pig does. Sea pigs are, in fact, a type of sea cucumber that lives deep down on the ocean floor. About four inches long, these soft pinkish oddities use tube-like legs and feelers to get around. Thus they snuffle through the mud, slurping up particles from decaying carcasses. Meanwhile, predators be warned... This little piggy tastes like poison.
Total Catches To Unlock:
80
Shadow Size: Small
Item Size: 1x1
Movement Speed: Very fast
Version Added:
1.3.0
Shopping information for Sea Pig
Orderable from Catalog: No
Sell Price:
10,000
Bells
Drop-Off Box Sell Price:
8,000
Bells
Do you have this item?
Make Sell Offer
Join the Club, Become a Member
Becoming a Member will always be 100% free and you instantly unlock:
Your own Profile Page
Trading Post, List Trades and Offers on Items and Villagers
Furniture, Item, & Clothing Sets / Series, Themes, and Styles
Creating and adding Items & Villagers to your own Shareable Lists
Many new features coming soon!
Sign In