Sea Pineapple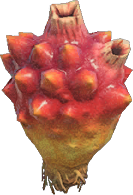 Try not to gawk as you look upon the sea pineapple. Its peculiar look is simply one of nature's many jokes. Though it may look like a half-rotten hunk of fruit, the sea pineapple is no plant, shellfish, or even sea slug. It's a tunicate, wot wot...a fancy name for a shallow-water filter feeder with a taste for plankton. It should be noted that the sea pineapple looks like a tadpole when it's young and can still swim about. Alas, its youthful cuteness wears off once it attaches itself for good to a rock. Ah, but let's put insults aside! Sea pineapples are full of water, you sea. And I fear we're asking for a squirt in the eye!
Details about Sea Pineapple
Shadow Size: Small
Item Size: 1x1
Movement Speed: Slow
Version Added:
1.3.0
Shopping information for Sea Pineapple
Orderable from Catalog: No
Sell Price:
1,500
Bells
Drop-Off Box Sell Price:
1,200
Bells
Do you have this item?
Make Sell Offer
How to find Sea Pineapple
Join the Club, Become a Member
Becoming a Member will always be 100% free and you instantly unlock:
Your own Profile Page
Trading Post, List Trades and Offers on Items and Villagers
Furniture, Item, & Clothing Sets / Series, Themes, and Styles
Creating and adding Items & Villagers to your own Shareable Lists
Many new features coming soon!
Sign In